Here's what the Supreme Court's ACA Ruling Means for Addiction Treatment Centers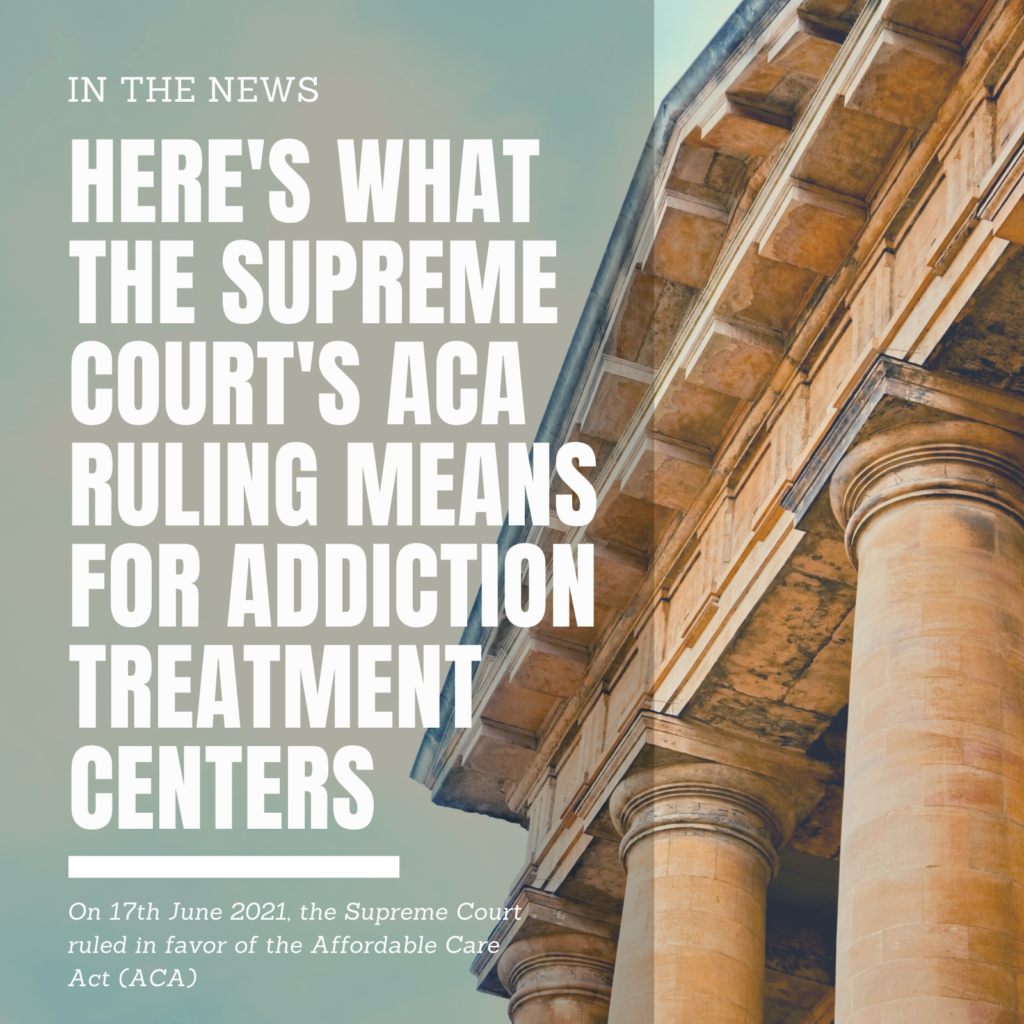 On 17th June 2021, the Supreme Court ruled in favor of the Affordable Care Act (ACA), dismissing the challenge that the ACA is unconstitutional.
Since it was signed into law, the ACA, widely known as the health reform law or Obamacare, has allowed nearly 31 million Americans to access healthcare coverage.
Besides banning insurers from basing health coverage on people's pre-existing conditions, the law prohibited insurance providers from imposing lifetime or annual caps on benefits while also placing limits on yearly out-of-pocket spending.
One of the greatly felt impacts brought about by Obamacare is the comprehensive healthcare plans, which allows people with mental health conditions and substance abuse disorders to access healthcare coverage just like other people.
Over the last four years, some changes have been made to the health care reform law, but the new administration is now reversing some of them.
To help you understand the impact that the Supreme Court ruling has on addiction treatment centers, I've covered everything from ACA's impact on substance abuse to billing and reimbursement requirements for addiction treatment centers.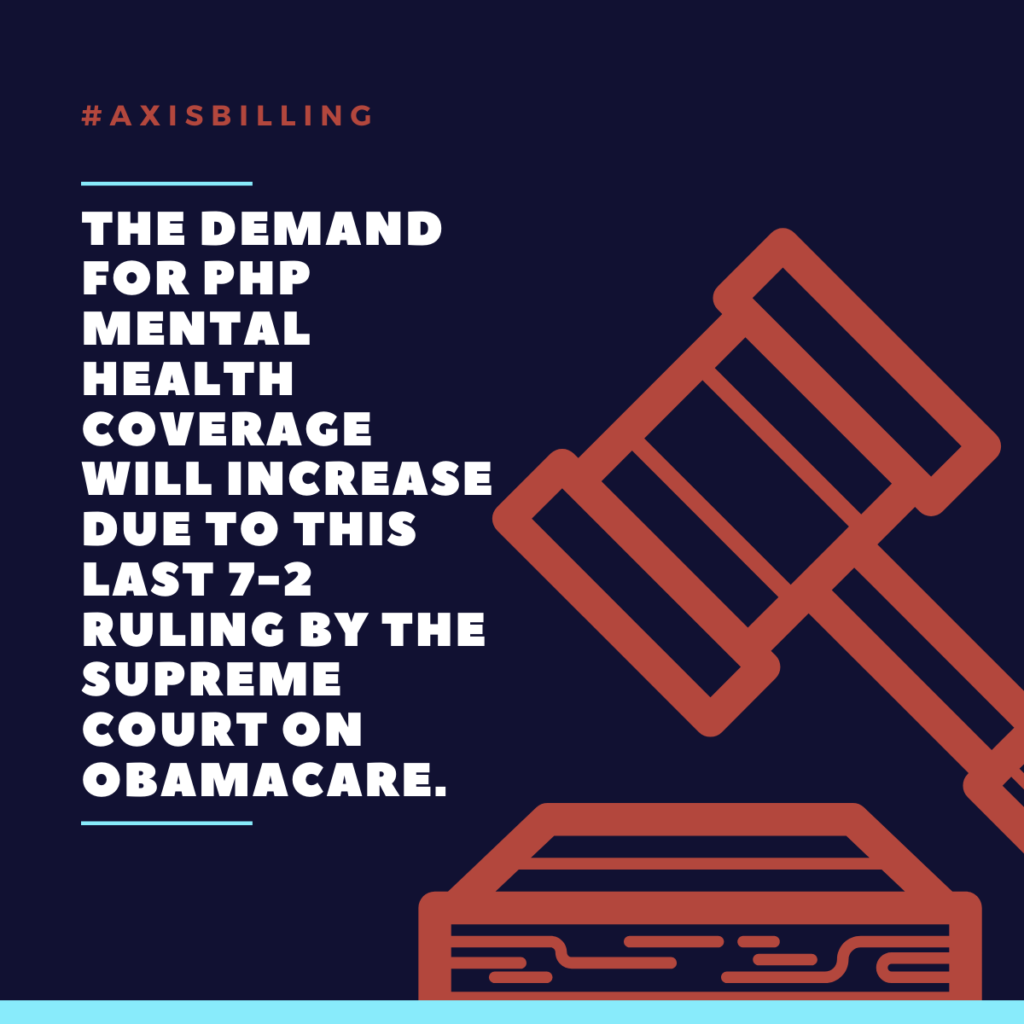 Knowing that their policies will cover the need for this higher level of care and future care is critical for all who need mental health services. Taking away any stigma with any mental health disease is important knowing that some if not all of the cost can be shared by the insurance policy they pay for monthly.
As well as knowing the fact the SCOTUS has upheld Obamacare time and time again shows how important the issue is and will be going into the future for more families and individuals who suffer from the mental health dilema day in and day out
Additionally, we shall see the potential impact this ruling has on the demand for treatment of behavioral health conditions and whether or not it will influence reimbursement rates for behavioral health.
This is the 3rd and 4th attempt to strike down the law which provides coverage for this dire need of insurance coverage for many of the millions of Americans who are stricken with mental health issues.
As time goes on the insurance industry will adapt and find a usual and customary reimbursement rate for providers and insurance policy holders alike but know that this mandated coverage has been deemed worthy and constitutional by the supreme court of law.
Earlier Changes Made to ACA
Since its implementation in March 2010, The Affordable Care Act had survived two earlier Supreme Court challenges. However, the law has also seen several changes during the last administration. Below is an overview of some of the biggest amendments made.
Elimination of the Individual Mandate
When ACA was passed into law, all US residents were required to have health insurance or pay a given penalty. This mandate was designed to have everyone, including the more healthy people to enter the health insurance market. Similarly, it helped keep the ACA premium policies low. A 2017 tax overhaul legislation reduced the penalty for not having a health plan to $0. In December 2018, following the tax overhaul, a Texas federal judge ruled that the $ 0 penalty, by law, is no longer a tax, but a command, hence declaring the whole ACA unconstitutional. The case then moved to Supreme Court, and a ruling was made in favor of the ACA on 17th June 2021.
Work Requirements Added to Medicaid
After the ACA Medicaid expansion was adopted, the federal government required states to have Medicaid beneficiaries prove that they either go to school or work. This change was highly politicized, and hundreds of thousands of Americans, including those with substance abuse disorders, were expected to lose their healthcare coverage.
The Ending of Cost-Sharing Reduction Subsidies to Insurance Providers
In 2017, the federal government stopped paying subsidies to insurers, which was seen as a critical element in motivating these companies to keep premiums down. This change disproportionately affected individuals and families who are not eligible for subsidies.
Expansion of Short-Term Plans
Under the initial ACA, short-term insurance that didn't provide essential benefits was limited to not more than three months. However, in 2019, the federal government extended this duration to 364 days with the option to renew for three years. Since these health care plans are non-comprehensive, they do not fully protect individuals in severe health conditions.
Slashed Budgets for HealthCare.gov Sign-Ups
Initially, the ACA had navigator programs with allocated budgets to help drive the healthcare sign-up campaigns. In 2017, these budgets were slashed, and the net impact was slowed and depressed enrollment. In the following year, the uninsured rates for US residents rose to 8.5% or 27.5 million people (the highest since the ACA went into effect) not having any healthcare plan at any point in 2018. This translated to more people, including those with pre-existing conditions not accessing medical care.
The Impact That ACA Has on Substance Abuse Treatment
The Affordable Care Act made it possible for people with pre-existing conditions such as drug and alcohol addiction to be accepted by insurance providers. At the same time, the 2008 Mental Health Parity and Addiction Equity Act (MHPAEA) mandated all insurers to offer the same level of coverage for substance abuse and mental health treatment as for regular medical care.
Now that the Supreme Court has spared ACA, patients receiving alcohol and drug recovery treatments have been relieved of the stress of covering all the rehab costs. Moving forward, rehab patients will continue to benefit from the covered rehab expenses. That said, here are the four ways ACA will continue to keep inpatient and outpatient rehab treatment costs affordable.
Drug and Alcohol Addiction Treatment Remains a Priority

: The ACA considers substance abuse disorders as one of the

ten elements of essential health benefits

. That means Medicaid and other forms of healthcare coverage sold via Health insurance Exchanges should cover services for substance abuse.

Greater Access to Healthcare

: More people will continue to sign up and access medical coverage through the expansion of Medicaid and other low-cost insurance plans. Similarly, states accepting federal aid allocated by the ACA will expand Medicaid coverage to individuals and families living below and slightly above the pre-determined federal poverty line.

Young Adults Will Remain on Parent's Health Plan

: Individuals up to the age of 26 will continue to receive coverage under their parent's health insurance coverage. According to a SAMHSA survey,

nearly 7% of young adults

in the US between 18 and 25 have a substance disorder. By extrapolation, more young adults will continue to benefit from covered rehab expenses under the ACA.

Free Screenings and Referrals

: If the ACA were ruled unconstitutional, patients with Medicare, Medicaid, or plans under the Health Insurance Marketplaces would have been charged for mental health and alcohol screenings. Now that the law is intact, these services come with no cost for insured individuals.
Billing and Reimbursement for Behavioral Health Service Providers
Now that you know everything about the Affordable Care Act, from the changes made to what to expect moving forward, let's look at the other side of the ACA – i.e., what it takes for behavioral health service providers to be reimbursed by insurance companies.
Typically, there are four service categories that insurers may consider for reimbursements. These include:
Hospital-Based and Residential Inpatient Care
Hospital-based care and residential programs, widely known as RTC, are acute and sub-acute recovery centers offering nursing care, medical monitoring, and behavioral-health services 24/7. Services provided by these programs are reimbursed on a standardized per-diem basis. Here, the per-diem rate includes all services offered in the program from the accommodation, lab fee, therapies, services of licensed professionals and counselors, dietitians, psychiatric nurses, etc.
Partial Hospital Programs (PHP)
Here, services are offered in an ambulatory setting and require a minimum of 20 hours per week. Billing is done per diem basis, and reimbursement is made on the lesser charges, including services from social workers, addiction counselors, occupational therapists, addiction counselors, etc.
Intensive Outpatient Programs (IOP)
These programs provide patients with behavioral health services for 9 to 19 hours per week for adults and at least 6 hours for children and adolescents. Billing for IOP is cumbersome compared to hospital-based and inpatient programs; hence, it's challenging to get reimbursement.
Services offered by IOP include family, group, and individual psychotherapy, medical monitoring, and psycho-education. To be eligible for reimbursement, IOP providers must:
Supervise the patient at all times.

Adhere and be consistent with the initial treatment plan

Address the diagnosis that required admission.

Provide enough IOP care to patients for about 12 to 16 weeks.

Be consistent with clinical best practices.
Other Key Takeaways
Due to the Supreme Court ruling, enrollment for healthcare plans will probably rise, and more people with substance abuse disorders will be seeking specialized treatments. It's therefore fair to conclude that to a given extent, the demand for treatment services for behavioral health conditions will increase.
As far as reimbursement is concerned, the current rates are significantly lower than those for other medical and surgical treatments, and this has led to a lower network of behavioral health providers participating in healthcare plans. If this were to be resolved, health plans would need to raise reimbursement rates. But even then, it would be very costly to try and level up with what behavioral health providers charge patients who pay out-of-pocket. And while there are no official plans to raise reimbursements yet, efforts to boost these rates will be highly beneficial.
Last but not least, addiction treatment centers that accept Obamacare, Medicare, and Medicaid plans should prepare to help more patients access quality care. They should also keep up with the CMS billing requirements to ensure compliance and minimize delays of reimbursements which could otherwise hurt service delivery.